Product Description
Equip Your Exercise with This Superior Set
Don't let a slippery, unforgiving gym floor wreck your workout. Set up and step up with professional supplies from Sensu! Your thick workout mat provides a comfortable, durable, and stable surface for each set and rep, while a towel and carrying case make muscling up extra rewarding. Upgrade your home gym and discover the difference!
Reap the Perks of Professional Design
Bump up your workout with these benefits!
Ultra-Thick: Crush it in comfort with a high-density, 8.5mm extra thick exercise mat.
Nonslip: Forget mats that slip and slide. Your gym floor mats feature nonskid bottoms AND tops!
Pure: Muscle up on kid-safe materials free of rubber, latex, phthalates, dioxins, furans, or heavy metals.
Odorless: Goodbye smelly, unhealthy PVC. And hello odorless, non-toxic 16P-ECO!
Beef Up, Towel Down
Stop slips by soaking up sweat in your included towel! Soft, ultra-absorbent microfiber mops your brow and your mat, saving you from slip-ups and stinging eyes. 72" x 26" in size ensures your towel is up to any drying task, while machine-washable material makes keeping fresh effortless!
Athletics To-Go
No need to clutter your gym bag. Carry your gym floor mat in your set's case! Your case features game-changing conveniences such as:
Sturdy, waterproof material
Adjustable shoulder strap
Secure zippered closure
Accessible, large opening
Give the Gift of Fitness
Pursuing the perfect gift for the gym guru or fitness fanatic in your life? Delight him or her with gym mats for home workouts from Sensu! With its professional quality and extra essentials, your gift is sure to be a hit!
Upgrade your equipment to dominate your exercise TODAY. Add Sensu's exercise mat set to your cart!
Quality of material
High quality eco friendly material with anti-tear mesh for extra Durability
Trusted by Athetes
Professional athletes worldwide use Sensu products to improve their fitness and health
Satisfaction guarantee
We want you to buy with confidence and offer a 30 day money back guarantee
Rated 4.9 Stars
By 255 Customers
For Health Conscious People On-The-Go
100% Life time warranty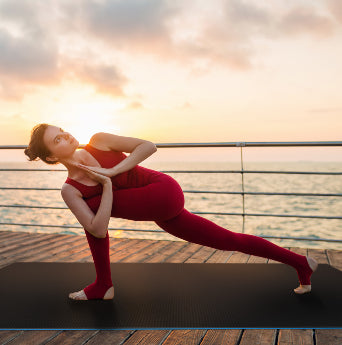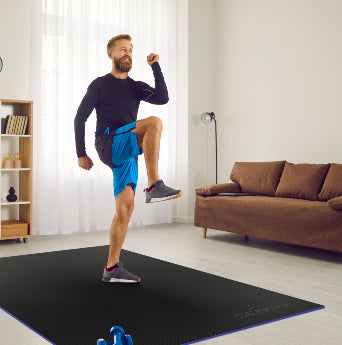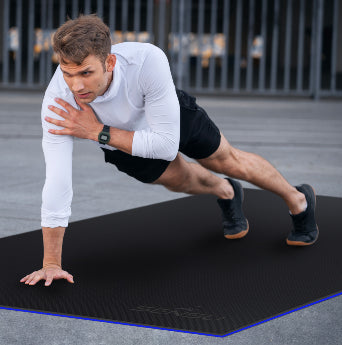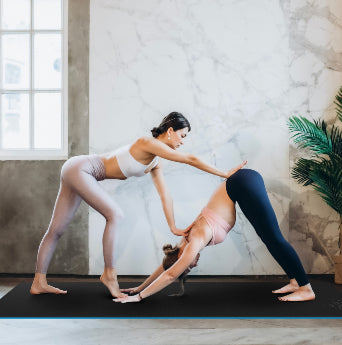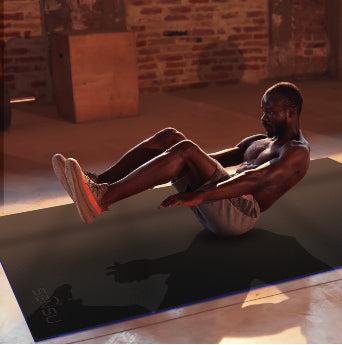 Frequently asked questions
Yes, our exercise mat will have enough shock absorption for HIIT workouts on a cement floor.
- Rachel Customer Support Sensu
It is a raised grid pattern. IT is comfortable to stand on barefoot and helps prevent against sliding. However, it does not impede movement. The surface does not become sticky and does not, sink in with repeated usage on a specific area of the mat. Hope this helps
- John W
For sure. It's like a dense yoga mat.
- Ryan G
It's nice. Yes you can use it barefoot.
- Elylia
Yes you can use it barefoot comfortably, I use it for yoga (barefoot) and for my other workouts with sneakers, so far there has been no issue with slipping ( barefoot) or damage from wearing sneakers. Very happy with this mat.
- Customer
The mat has very fine texture that your feet grip while exercising so there is no slipping. Great mat. Stays flat and very comfortable to use on a tile basement floor
- Customer
Yes it's good for bare feet as well. I found the mat to be excellent quality.
- Customer
Yes our exercise mat is durable enough for your gym equipment to sit on.
- Rachel Customer Support Sensu
I have mine on carpet and it doesn't move. It's very grippy.
- Terry
If they're on a firm surface I don't think they would!
- Customer
They shouldn't slide. But you could use duct or gorilla tape to tape them together
- Customer
No, the side of the mat that contacts the floor is made of a non slip material. It has not slipped during use.
- Customer
We have ours on a cement floor and I can do high intensity workouts with out it budging! I can't say for sure if it would have the same hold on a carpet though. (Not sure what flooring you are using it on)
- Kristie-Lee G
I have 2 mats and they stay together pretty good
- Susan D
Never know unless you try! Given how rare a warranty does cover wear from usage, I wouldn't count on it though.
- Customer
No it is harder then a yoga mat. I do kettlebell workouts on it and it's perfect for that. It's also on carpet. Hope this helps.
- Mike
It's harder and thicker than a yoga mat, I'd say about an inch thick
- Customer
Yes, but is is a lot thicker. It would be better for HIIT than a yoga matt
- Susan D
Yes, our exercise mat will have enough shock absorption for HIIT workouts on a cement floor.
- Rachel Customer Support Sensu
It is definitely harder because it is designed to to cardio on it. I love jumping on it, has great cushioning but if you like something soft for floor work, it is not as soft as a yoga mat.
- Beatriz
Yes you can cut to fit in an area.
- Rachel Customer Support Sensu
I would think you could. It isn't too thick to be able to cut it.
- Terry Schick
I don't see why not. Would need a sharp exacto-knife.
- Kristie-Lee G
Sure no problem. Great product.
- Customer
The difference is:
Exercise mat = More durable, surface design for shoes, higher density and suitable for exercises with shoes such as Jump rope, HIIT, Aerobics.
Yoga mat = Surface design for without shoes, lighter, less density and recommended for exercises without shoes such as Yoga, Pilates, stretching.
- Rachel Customer Support Sensu
This is thicker than a yoga mat and more sturdy, so you can do more than just yoga on it but it also works great for yoga. It's much larger than a yoga mat.
- Customer
I believe it is a lot more durable. Perfect for HIIT. I love it😊
- Serena Williamson
This mat is more durable, for example if you're doing burpees or mountain climbers these usually rip up a yoga mat in a short period of time this mat doesn't. Also a yoga mat moves sometimes on the floor and this one doesn't move around.
- Customer
I believe the yoga mat offers a little more cushion but I'd recommend either mat to anyone. I work out with kettle bells as well as doing push-ups, sit-ups and this mat has a great grip, extremely durable doesn't smell or slip. I have the workout mat and it's well worth the money.
- Terry
Blue side down.
- Kristy-Lee G
I put the blue side on the floor, and the black side is the side facing up. I think the blue side looks like little suction cups so it makes me think it should be making contact with the floor.
- Terry
We use it on a low pile carpet and it works well, distributes weight evenly and is firm mat.
- Peter Wellsman
I would assume so. The material seems durable.
- Natalia
Absolutely! It is black so the sun would make it hot tho.... something to consider
- Sarah B
I had it outside on the grass the other weekend. It worked great. It's not rigid so it still flexes under weight but great for an outdoor work out.
- MIke
Yes. It's very durable.
- Terry
It's probably not designed to stay out there long term but definitely, although I would use it on a hard surface, not grass
- Customer
I have skipped on it and it doesn't tear! It's quite sturdy, I bought it as a replacement for another brand that was constantly shedding.
- Abi
I have not skipped on it, but I have used a variety of equipment and it has not damaged.
- Susan D
I have found the cushioning quite good. I have back and knee issues and do not experience them when using this mat. I hope this helps.
- Beaver Tail
Yes, it's great for cardio exercises such as "jogging in place"
- Rachel Customer Support Sensu
This mat has a nice thickness and would certainly work on an asphalt / concrete surface. It's possible that type of surface, depending on temperatures, could degrade the integrity of the mat surface. Placing it on some kind of tarp, blanket or other protective layer between mat and asphalt would be my recommendation. The quality of the mat in and of itself is fantastic in my opinion. The size is really great too. I'm a 5'6" woman of size and I find it really spacious for what I want to do.
- Sara
Yes, once unrolled our exercise mat will be completely flat and will remain stationary while being used. The corners will not curl. - Rachel Customer Support Sensu
Here are a few simple steps to clean your exercise mat.
1. Add warm water and a few drops of bleach free dish soap into a spray bottle.
2. Spray your mat with the solution then wipe with a microfiber towel.
3. Let it dry completely before rolling up or using again.
- Rachel Customer Support Sensu
I do not think sliding discs would work well with this mat. I haven't tried the blue side yet so I am unsure. The black side gives a good grip which is what I was looking for. Sliding discs work better on carpet.
- Sara
so far it works with my thick bedroom carpet although for intense workouts, it tends to move a bit but the thickness and weight of the mat helps it to stay put
- Christian Aquino
I would think so. I have tile and wood floors and this mat is great.
- Yvonne
It slips a little bit on carpet when I do sit ups but not bad. No problem with stretching and working with my resistance bands.
- Donald Maitland
When you unroll the mat it lays flat immediately and I've done that a couple of times only. Multiple rolls might make a difference but I couldn't say for certain.
- Sara
Yes. Lays flat immediately. I have rolled up the mat several times and always lays flat when unrolled.
- Yvonne
I didn't notice any smell. I love this mat!
- Brittany M
I have no smell from my 2 mats. Love these mats! Thick and good texture for solid footing. I do zumba, yoga, modified crossfit with weights, step aerobics on these mats.
- 2CorgiMa
It's a strong smell when you first open it but it goes away over time.
- Jackie S
Mine did have a manufacturing smell, when I first received it and I had my face up next to it, but it dissipated after a few days. Not a big deal.
- MLM
Don't know about anyone else's, but mine does not smell.
- D Quellette
My mat has no odor
- Connie E. Reeves
There was an odor briefly after opening. Didn't even last til the next day. Zero odor now.
- Melissa Violette
I don't believe it will. I just got mine and it has really good grip on both sides.
- The Kenseller
Yes, our large exercise mat will stay in place for jumping jacks, burpees and plank wall kicks.
- Rachel Customer Support Sensu
Yes I believe it will. I haven't tried it with burpees but I have with jumping jacks. I am extremely pleased with the mat's performance. I like it better than my $120 yoga mat.
- Sara
Yes, the mat stays put when doing high intensity movements.
- Junior Meade
I have mine on tile and it stays in place
- Kent M
Yes, it stays put! It is on my floor and has not moved!
- Kimberly
Yes, our exercise mat will soften high impact activities. You can also roll away and store in the included carry bag when done. - Rachel Customer Support Sensu
I don't roll up my mat. It is permanently stretched out in my basement exercise room.
- 2CorgiMa
I have it placed on a ceramic floor, but knowing the product, its specifications and its quality, I am certain it will not damage any carpeted surface.
- Luis
I can't imagine that it would damage carpet but I am using mine on laminate flooring so have no foundation upon which to definitely say either way. Carpet comes in varying degrees of materials, piles, etc. You might want to consult a carpet store in your area or your landlord about the carpet quality and use of a mat.
- Sara
Sure if you have the room
- Donald Maitland
Mine has been on a light gray rug since September without any issues of staining. The blue side is down and the black side is up. I work out on mine most mornings, and it doesn't move. It has never gotten soaked, but water bottle spills or sweat have not discolored at all. It is certainly big enough to put under a treadmill.
- Debra P
Yes, i use it for low impact workouts and abs stuff as well as cardio with shoes! So far it works great and is resistant!
- Cynthia P
Yes, this mat is good for dancing on.
- Rachel Customer Support Sensu
I do workout with shoes on it and so far so good. It's a pretty good mat! But its only been a few months that i have it! Doesnt seem like it would break too easily! So far it has been worth the purchase!
- Cynthia P
Although I don't do heavy intense cardio on the mat (mostly weights and light cardio), the mat has held up well so far.
- Customer
I have used the mat for about four months now and have done cardio with shoes on (jumping jacks, run on spot etc) two or three times a week and it is not breaking down. It appears to be good quality.
- Mike D
Shipping time usally takes 2-3 days. Due to Covid there may be a slight delay with shipping.
Processing time is within 2 business days
At the moment we only ship from USA, Canada, Australia
If you would like a tracking number contact us and we will send it right away
Your order number will be included in the emails we send confirming your order and on the information, we sent with your order. Can't find it? Let us know and we can look it up for you.
Your refund will be paid back via your original payment method.
You may also like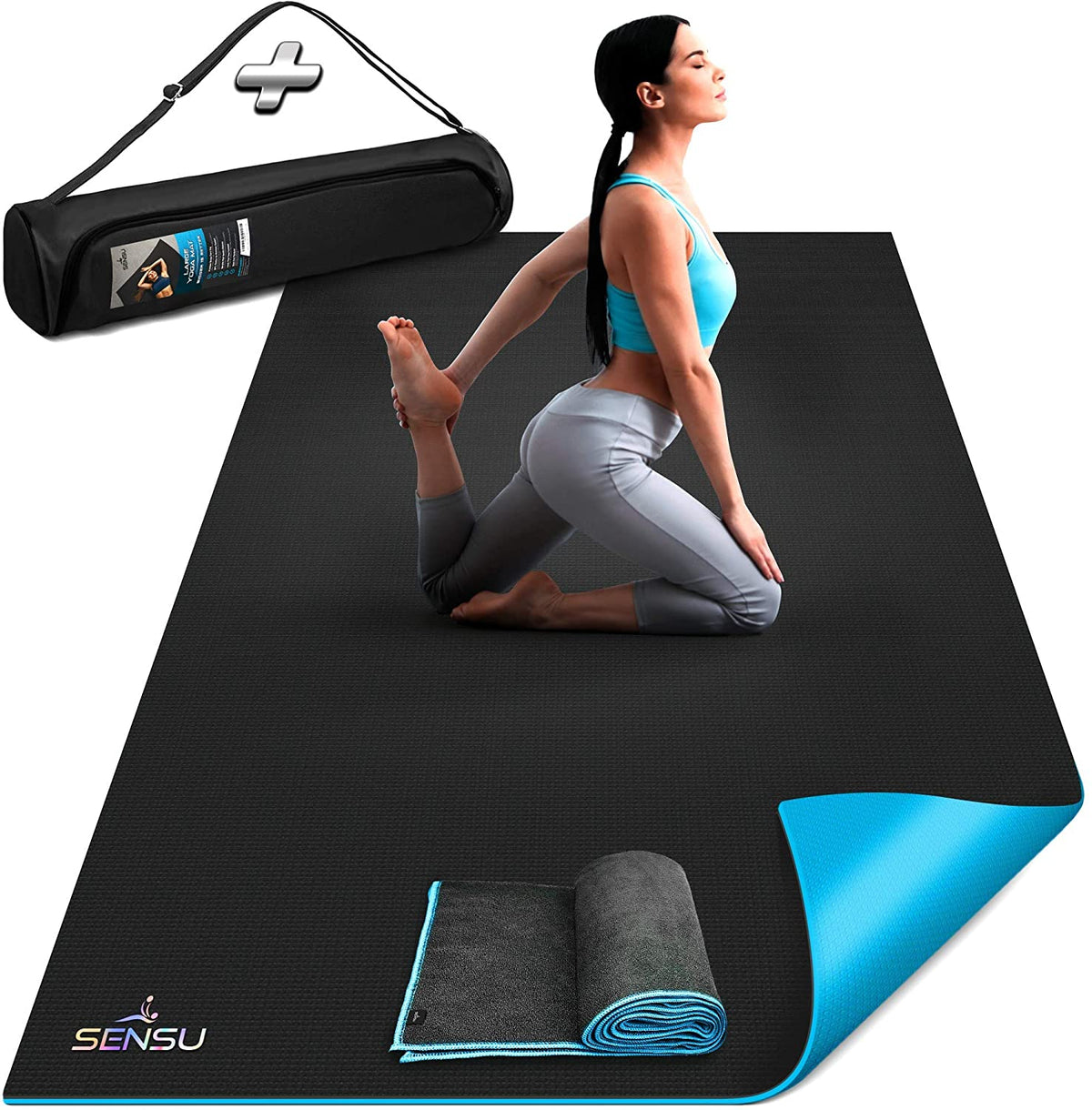 Large Yoga Mat
Move freely without restriction, and without the pain of hard floors from thin tiny yoga mats with our portable workout space by Sensu!
Regular price

$119.99 USD

Sale price

$119.99 USD

Regular price

$169.99 USD